Only 3 Ingredients
This Beldi Buff has only 3 Ingredients - Olive Oil, Aloe Vera, and Lavender. Mostly I smell Lavender, my favorite scent, period. Sadly, you can't smell any scent, once you wash it off. It has the consistency of a body scrub. It's nice that they include what they call a Kessa Mitt, but be careful when you use it, and I'd be careful using it on any sensitive body part. I ended up with a welt! It's not any rougher than a loofa sponge. It has a loop to hang it.
Great exfoliation!
I love this soap and exfoliating mitt! Who knew that three ingredients could work wonders on your skin? The consistency of the product reminds me of a nectar or honey. After applying the product to my legs I used the buffing mitt to exfoliate my skin on my legs. My legs felt as smooth as butter after doing this. The mitt comes with a nice little hanger on it l, so that it can be hung up after use to dry. I highly recommend this product if you want baby smooth skin. Worst its value!
Very impressed!
This set truly works wonders! My legs haven't felt this soft in a while! The material of the mit gently removes dead skin leaving them silky smooth!
Love the Nectar and the Exfoliating Buff
The "nectar" (soap) glides across my skin like silk. It's filled with natural ingredients that are good for my skin--olive oil that's rich in Vitamin E and packed with powerful antioxidants, aloe vera that moisturizes every inch of my body, and lavender that promotes relaxation. The mitt is a super exfoliator! In fact, after using it I felt scrubbed clean. This would make a WONDERFUL gift for your BFF or your mom or any woman in your life. Heck, the men in your life might enjoy using this. The packaging is very nice. This would make a great gift.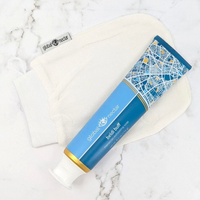 Exfoliating Beldi Buff Moroccan Black Soap + Kessa Mitt Glove
$36.00